You may remember our first episode with Superstar Quarterback Eli Peters from Sandalwood High School in Jacksonville, Florida. We had a special guest join us & now he is the star of the show. Denny Thompson has been a coach/coordinator in the area, and now he focuses on the individual growth of QB's. Can he turn our host into a top notch quarterback as well? Let's find out!
#AreYouGameTimeReady
GTR: Talking Under The Lights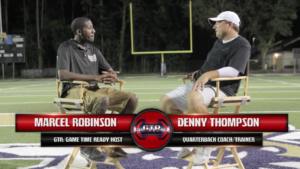 Denny Thompson used to run the sidelines with some of the top offenses in the State of Florida as a coach & offensive coordinator. Now he focuses on training the top quarterbacks in the City of Jacksonville.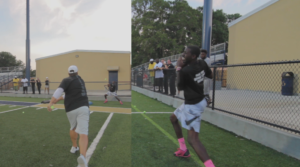 GTR: Sweet Feet
Denny brings out some tennis balls to help the guys work on maneuvering in the pocket while keeping their eyes down field. Sounds crazy right? Not as crazy as you may think…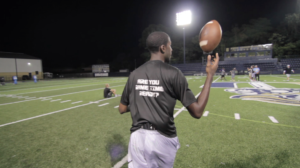 GTR: Let's Have A Little Fun…The Build Up
Like Denny said in the interview… Friday night is the time to come out and have some fun. Well let's turn on the lights and toss the ball around. Presented by Dream Finders Homes.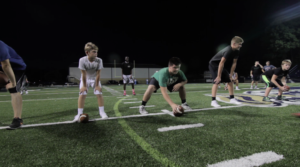 GTR : Working The Pocket
Now it's time to get down to business. Tennis balls are cool but it's time to send the Jailbreak Blitz! Stand in the pocket. Dodge The Rush. Make The Throw. Let's Go.