I took a trip to the Shark Tank to have a talk with one of the Arena Football Leagues greatest Wide Receivers. Tiger Jones has spent a lot of time in the AFL, and during his time with the Jacksonville Sharks he cracked the Top 5 All-Time list for receptions. I had to see for myself if he deserved the crown as one of the All-Time Greats.
Tiger Uncaged… Chatting With Tiger Jones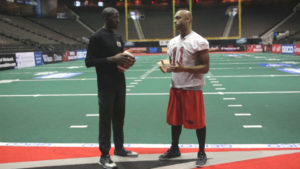 Tiger Jones has solidified himself as one of the best Arena Football players in league history. I stopped by the Shark Tank to chat with him about his time in the league and learned a few things.
The Build Up…Hands Team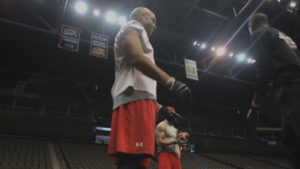 A little taste of what Arena Football Wide Receiver Tiger Jones can do… With a cameo appearance of course.
The Gauntlet…Round One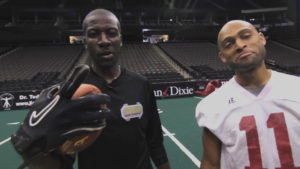 Round One of The Gauntlet is a little game we like to play to test the reaction time of Tiger Jones & our Host Marcel Robinson.  Two-handed catches are worth 5 points, and one-handed catches count as double.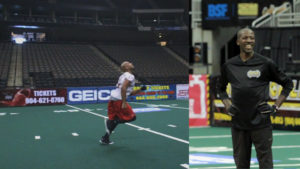 The Gauntlet…Round Two
First Round goes to Tiger Jones. The next game is to test his ability to go and get it on those popular fly routes. Each Zone features a different point total. 5 points for receptions between 0-10 yards and 10-25 yards rack up 10 points. Can Marcel close the gap?
The Gauntlet…Round Three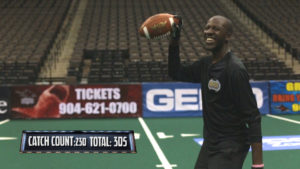 Looks like Tiger is pulling away… This last game is all about the hands, and THIS TIME, there's a little late-game drama. This is for all the marbles!